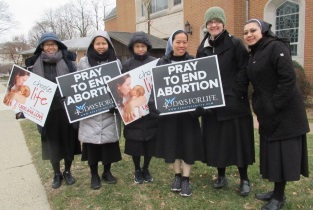 22 Jan

Witnessing to the sacredness of human life

Student Life: ROCKAWAY NJ MARCH FOR LIFE

President Sr. Joseph Spring and Students from Assumption College for Sisters along with Sr. John Paul Thorley, SCC and Sr. Paulina Navarro, SCC joined with St. Cecilia's Parish, Rockaway NJ at Rockaway March for Life.

The students prayed for the protection of human life from conception to natural death. The event started with Mass at St. Cecilia and marched around Park Lake while praying the rosary.