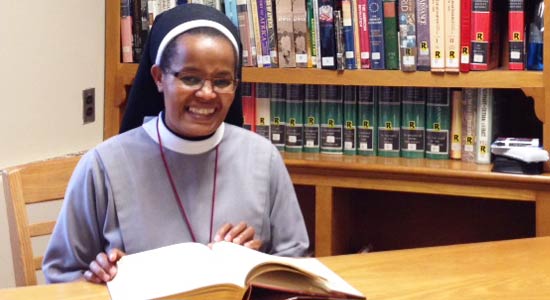 Library Services
The College holds membership in the Virtual Academic Library Environment (VALE), a consortium of academic libraries in the State of New Jersey. Through VALE, faculty and students are able to access numerous journals and professional periodicals via the EBSCOhost Research Databases. The College is also a member of the LibraryLinkNJ (New Jersey Library Cooperative) a non-profit, multi-type cooperative sharing resources, services, and expertise among libraries in Northern New Jersey.


The College print library holdings are located in the main convent classroom as well as in the designated rooms within the Morris Catholic High School. AV holdings are in the designated classrooms in the Morris Catholic High School and in the main classroom. A library catalog system is accessed through the cloud using acs350.org Google drive. It is accessible to every member of the College via the internet. Faculty, staff, and students check out and return books through the Google drive.


In addition, resident students possess a Denville Library Card with full privileges, which allows them to check out books at Denville Library and all of the libraries in Morris County (www.mainlib.org), excluding college and university libraries. Denville Library holds one Denville Library card for general use for the non-resident students and faculty members, which allows access to the Denville Library (www.denvillelibrary.org) and Morris County Library (www.mclib.info).


Arrangements for library usage have been made with neighboring institutions: Seton Hall University, South Orange, NJ, and the College of Saint Elizabeth, Convent Station, NJ. At Seton Hall, ACS President and ACS IT Consultant have a guest account for one year. Students and faculty members have been registered as borrowers. Printed materials can be requested through the College of Saint Elizabeth and Seton Hall University libraries by contacting the Interlibrary Loan/Reference librarians.


From the ACS website, students have access to various open access resources: Internet Archive, Open Library, Directory of Open Access Journals, ERIC – Institute of Education Sciences, and LibriVox – Free Public Domain Audio Books.