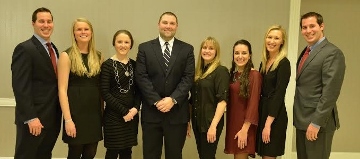 26 May

Young Professionals: Assumption College for Sisters' young professional committee assisted at the college's annual gala.

Pictured (from left) are: Connor Milanaik, Cait Yackus, Jackie Doddy, Ted Lawless, Patty Betz, Kim Pereira, Cara McGrady and Ryan Milanaik

Assumption College for Sisters, Denville, NJ is perhaps the smallest college in New Jersey. Despite its "small footprint," the student body is composed of Catholic Sisters from around the world who serve in mostly developing nations. Upon graduating from the two-year college, many Sisters go on to pursue advanced degrees in other institutions of higher learning with the intent of returning to their home communities to serve in various ministries. To advance the mission of this international college, a Young Professionals Committee has recently been established.  Committee members learn about the challenges which face non-profits, develop the skills to solve these problems and are afforded the opportunity for personal development. This dynamic group of professionals possesses considerable skills and resources, enabling them to help solve these problems.  Ted Lawless, committee chair, says: "The College is a wonderful instrument for creating good in the world, and serving on the Committee is an opportunity for young professionals to collaborate with international Sisters to multiply the impact of the College far beyond the campus in Denville." Young professionals will initially bring to bear their skills in serving as ambassadors of the college through building relationship with the great community and through hands-on efforts such as social media development and marketing. "The young professionals not only offer their time and talent in service to the College, but they bring a positive energy which encourages our sisters in their ministry of learning and service," said Sister Joseph Spring, SCC, president of Assumption College for Sisters. More information regarding Assumption College for Sisters is available at www.acs350.org.