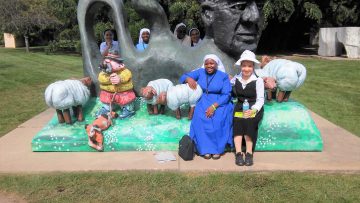 28 Sep

Field Trip – GROUNDS FOR SCULPTURE
COUNT THE SISTERS, NOT THE SHEEP.
How many Sisters do you see?
Grounds for Sculpture is located in Hamilton, NJ. On Tuesday September 26, ACS third-year students from Dr. Katherine Doyle's Art History class explored the sculptures and the garden features of the sculpture park and arboretum. Visitors are invited to touch the sculpture to experience the art work. Shown above are the sisters with sculptor Red Grooms' "Henry Moore in a Sheep Meadow". The students took advantage of this invite and enjoyed posing with this sculpture.