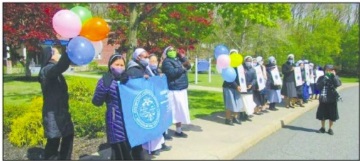 11 May

A Surprise Graduation Parade

Click here to view the Surprise Graduation Parade

We were overwhelmed at the outpouring of love and support of so many friends.

As a special surprise, faculty, staff, board of trustees, and several Denville and Mendham friends formed a special congratulations parade. Denville's Mayor Tom Andes, a parishioner of St. Mary's Denville, enlisted police and fire departments. More than 40 cars decorated with signs and balloons joined the car parade. Father Carmen Buono, Morris Catholic Chaplain led the parade and blessed the Sisters with Holy Water from his car. Rev. Martin Glynn, Pastor of St. Mary's Denville participated in his own car also blessing the students. The eight graduates and sister residents of ACS lined the sidewalk carrying signs with each graduate's name.