Assumption College for Sisters Holds Commencement Exercises
On Saturday, May 12, Assumption College for Sisters will hold Commencement Exercises in the Christopher H. Thomas Gymnasium of Morris Catholic High School, Denville, at 3 PM. Rev. Martin Glynn, pastor of St. Mary's Church, Denville will offer the invocation. A reception in the Student Dining Room of the High School will follow. Sister of Christian Charity, Sister Joseph Spring, ACS president said that seven graduates will receive Associates in Arts degrees. The 2018 graduates are: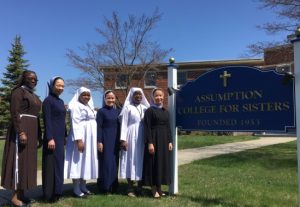 Sister Mary Cecilia Akol, LSOSF who will attend Siena College, Loudenville, NY
Sister Catherine Thu Le, FMV, who will attend Holy Apostles College and Seminary, Cromwell, CT
Sister M. Norbertha Mlowe, OSB who will attend Silver Lake College, Manitowoc, WI
Sister Lucia Anh Nguyen, SPP, who will attend Marywood University, Scranton, PA
Sister Marie-Therese Linh Nguyen, SPP who will attend Seton Hall University, South Orange, NJ
Sister Charity Nkwera, OSB who will attend Silver Lake College, Manitowoc, WI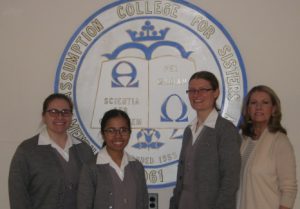 In addition, four students will be awarded Certificates in Theological Studies. They are:
Sister Bernadette Joyce Bermejo, FMA
Cynthia Kaiser Haidri
Sister Molly Heine, FMA
Sister Monica Wheeler, FMA

Mrs. Mary Alice Lawless, 2016 Caring Basket Honoree, will deliver the commencement speech.
Mary Alice attended Montclair State University, College of Arts and Letters where she received her BA; The University of South Carolina, Graduate School of Journalism, where she also worked as a graduate teaching assistant and attended the University of Notre Dame, Mendoza College of Business, Executive Education. 
A resident of Morristown, NJ, Mary Alice is blessed with a loving family with five children and supportive communities of faith and friendship, one of which is ACS.
 Mary Alice and her family were introduced to ACS through Sister Dativa Mukebita, a graduate of ACS, who is now leading the youth in caring for the elderly and poor, with love, at The Village Angels of Tanzania. Through the years, Mary Alice has met more ACS students and faculty, and has witnessed the unwavering dedication and personal commitment of graduates. Today, she is a proud and active member of the Committee for Institutional Advancement at ACS.
Professionally, Mary Alice has been an advisor to leaders in healthcare policy and practice for more than 20 years. She has worked with many of the most prominent pharmaceutical, insurance and retail companies in the USA and worldwide. She is President and CEO of Everything Health LLC. She is also Chairman of the Foundation for Health Smart Consumers, a 501(c)3 organization committed to the empowerment of people in their own care. She is a recipient of the Healthcare Businesswomen's Association (HBA) Rising Star Award for "outstanding accomplishments which made a difference in the industry and inspired others".
 Prior to her current roles, Mary Alice was President of Solara, part of what is now Ogilvy-CommonHealth Worldwide, a WPP Company. She also held professional positions with J. Walter Thompson and worked in journalism at ABC News, where she was on staff at "Good Morning America" and "World News Tonight". Mary Alice holds dual citizenship in the United States and Ireland.

Alumna of the Year: Sister Teresa Ann Jacobs, SCC
Each year, ACS recognizes an Alumna of the Year. This year ACS will honor Sister Teresa Ann Jacobs, SCC Sister Teresa Ann has been a member of the Sisters of Christian Charity for 44 years. She is an alumna of ACS and a former Board Member.
Sister's earliest profession was in Elementary Education. She received a Bachelor's Degree in Elementary Education from Felician College, Lodi, New Jersey and a Masters in Elementary Education Administration, from Villanova University in Villanova, Pennsylvania. Sister taught elementary school for eighteen years and was an elementary school administrator for ten years.
Sister Teresa Ann began a career in healthcare administration in 2003. She accepted the position of Vice President of Mission Effectiveness then Vice President of Professional Services at Holy Spirit Hospital, Camp Hill, Pennsylvania. During that time, she completed a Masters in Health Administration from Penn State University. Sister Teresa Ann accepted an opportunity to work at Saint Vincent's Health System, Erie, Pennsylvania in an administrative internship and as interim Senior Vice President of Professional Services.
In January, 2009, S. Teresa Ann accepted a Director of Sponsorship position with the Sisters of Christian Charity, Mendham, New Jersey. In her present role, Sister ensures sponsorship effectiveness of the sponsored works of the Sisters of Christian Charity.
Sister recently completed a 165,000 square foot building project for the Sisters of Christian Charity's new Motherhouse in Mendham. This new facility serves as the Sisters home for retired sisters, Formation, Provincial Administration, and central services for the Sisters of the Province. During her tenure as Chair of the ACS Board of Trustees, along with former Superintendent of Schools Brother William Dygert, CSC, guided the restructuring of the Bylaws of the Board under which ACS operates today.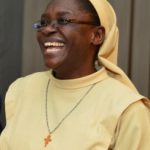 Reflection: Sister Mary Cecilia Akol, LSOSF
A highlight of ACS' graduation program each year is a brief talk by one of the graduates who reflects on her class' experiences during the three years of study at the College.  This year's presentation will be given by Sister Mary Cecilia Akol, a native of Uganda and a member of the Little Sisters of St. Francis.