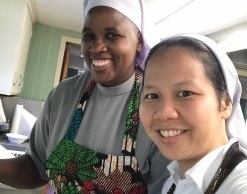 16 Jul

ACS Institutional Goals: Community & Service
Two New Cooks in the Kitchen?
Fulfilling our ACS Institutional Goals of Community and Service, two of our Graduates, assumed the responsibilities of cooking the meals and kitchen maintenance, for all who were on an "In-House" Retreat last week.
Our special thanks goes out to our 2020 Graduates, Sr. Lucia Misoji, OSB-OLHC (left) and Sr. Mary Thuan Bui, FMV (right). This picture was taken on Friday, Sr. Lucia and Sr. Mary Thuan, were still smiling after serving over 200 meals!
Both Sisters were previously on our Graduate In-House Retreat. They were happy for the opportunity to provide this service and share their cooking expertise with their ACS Community.
All Sister Retreatants were delighted to enjoy the delicious well-prepared menu, which added so much to their peaceful and grace filled retreat. No one was more grateful then Sister Marie Cecilia, the normal chef, who stated she was "in heaven" being free to concentrate on the "things of the Lord".