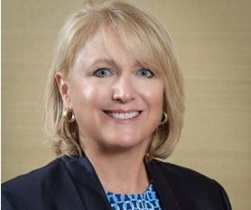 14 May

2019 Commencement Speaker: Kristine Donovan

Thanks goes to Kristine Donovan for her dedication to Assumption College for Sisters.

The 2019 commencement address was delivered by Mrs. Kristine Donovan, a former member and Vice-chairperson of the Board of Trustees of Assumption College for Sisters (2014-2018), serving on the Executive, Governance, and Facilities Committees. She continues to wholly embrace the mission of ACS and along with her husband Ken, helped ACS to revitalize the written mission statement. Kris states that her term on the Board was a privilege. She and her husband were the 13th Annual Caring Basket Honorees.

When ACS first relocated to Denville, Kris and her husband were instrumental in making many improvements in the facility, both inside and out—computer tables and chairs, outdoor patio and patio furniture, landscaping, to name a few.

Kris has a long and wonderful connection to the Sisters of Christian Charity, sponsors of ACS. The Sisters were her early teachers at St. Joseph School in Mendham and then at Immaculata High School, once located at Mallinckrodt Convent, Mendham. Her children also attended St. Joseph School, during the tenure of Sr. Joseph as Principal. Kris was appointed to the Education Council and worked alongside Sr. Joseph to assist in the governance of the School. Kris says, "My enduring relationship with the SCCs is one that I cherish. I admire the Sisters as joyful, dedicated, self-sacrificing, and strong religious women who have loving hearts and determination to make the world a better place."

Kris has a BS degree in Marketing and an MBA in Financial Management and worked in the Financial Services industry as an Options Strategist until the birth of her first child. She has volunteered extensively in the schools attended by her three children and in her community. She and her husband, Ken, support and have particular interest in Catholic and values-based education as the means to positively transform lives. Kris is a current Trustee on the Board of Tri-County Scholarship Fund.