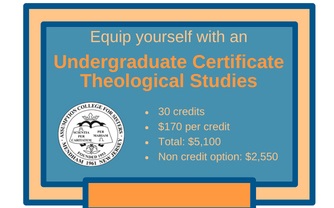 14 Dec

Course Schedule: Spring 2019
Alumna Testimonial:
Sr. Brittany Harrison, FMA
Attending Assumption College for Sisters as a novice with the Salesian Sisters was a welcome intellectual challenge that left me with a deeper understanding of my vocation as a woman religious and the richness of the Church's teaching. After two years, I attained a "Certificate in Theological Studies", which was for me an impetus to further theological studies, eventually obtaining my B.A in Religious Studies (Catholic Theology) from St. Thomas University in Miami Gardens, FL. As a high school theology teacher for the last seven years, I have often drawn from assignments we did, notes I took, and questions that were answered in the classrooms of Assumption College for Sisters in order to enrich my own student's learning. I am so grateful to those who have supported the mission of Assumption College for Sisters as it has impacted not only my life, but the lives of my past, current, and future students. If you educate a Sister, you educate the world.