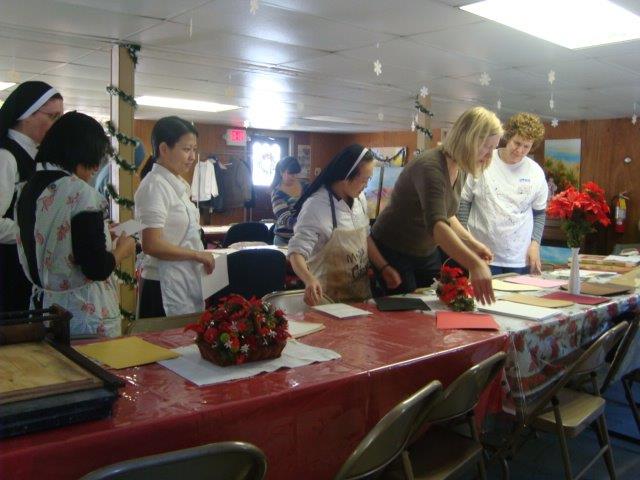 27 Jan

ACS Students visit studio of local artist Cindy Reyner

On December 12, 2013, ACS students from Ar101, Art History and Appreciation, accompanied their professor to the studio of local artist Cindy Reyner. The December visit followed a November presentation by Mrs. Reyner at ACS that touched on the sources of her inspiration as an artist and discussed several of her actual works (brought to ACS classroom specifically for that purpose). Mrs. Reyner received her BFA in Studio Art from Western Kentucky State University and has won numerous awards for her painting and printmaking. Her works are largely autobiographical, informed by her early years growing up on a farm, her large family, and the natural elements of the landscape.

The December visit was the culmination of the class's focus on art appreciation and the nature of creativity. Students were asked to come up with a simple design and transfer it to a scratchboard in preparation for a session of basic printmaking. This exercise prompted the sisters to plan ahead for the natural reversal that takes place when one inverts "the plate." It also encouraged them to appreciate the kinds of concerns that faced other printmakers, namely screen printer Andy Warhol. (Warhol was considered earlier in the semester, in the art history portion of the course.) Since most of the sisters were busy preparing for final exams during this late time in the semester, the visit offered a change of pace and a welcome diversion from the intensity of book study.