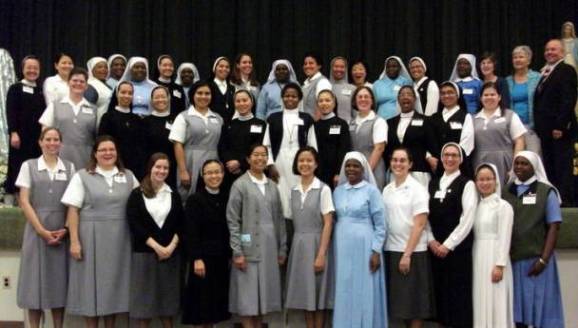 29 Aug

Assumption College Welcomes New Students!

Assumption College for Sisters opened its academic year on August 28 with a Mass of the Holy Spirit celebrated by the Rev. Francis Heinen at 9:00 AM.  Reflecting the international character of the student population, students from Africa, dressed in traditional  garb,  processed into the Chapel singing "Nitume Mimi Bwana" (Lord, send me, I will go and proclaim your word) in their native Swahili.  At the Offertory, Vietnamese students sang "Holy Offering" while offering gifts of fruit, flowers and school books.  "A Gift of Love" was sung in combined Vietnamese and English at Communion time.  In keeping with the theme for the year, "We Walk By Faith" was sung by all.

Provincial Superior Sister Joan Daniel Healy greeted faculty, staff  and students.  President of ACS, Sister Joseph Spring, shared some of the history and heritage of the college as well as expanding on the theme for the year, "We Walk By Faith."  This was followed by an orientation for students with the Academic Dean, Sister Gerardine Tantsits.

The total student population this year numbers 47 with 20 Sister Students coming from the developing nations of Kenya, Tanzania and Vietnam.  Local religious congregations and laity comprise the remaining population: 8 Sisters of Christian Charity, 10 Daughters of Mary Help of Christians (Salesians), 4 Vocationists, and 5 laity.  These students come from the United States, Uruguay, Puerto Rico, the Philippines, Indonesia,  and El Salvador.

New faculty members were welcomed:

Sister Gabrielle Nguyen, SCC:  Philosophy

Dr. Katherine Doyle:  Art History and Appreciation

Dr. Ruth Ferrer:  ESL Introductory Reading and Writing

Sister Ann Lavelle, SCC: Keyboarding

Future scheduled events include celebration of International Day of Peace, September 21, with a prayer service scheduled at 11:45 AM.  To initiate the Year of Faith, a lecture open to the student body and public, "Bringing Heaven to Earth:  Catholic Social Teaching Offers Hope to the World" will be given October 14, 2:30 PM by Msgr. John Fell.