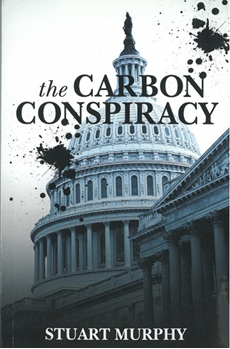 30 Sep

Stuart Murphy, Author as well as an ACS Instructor

Suart Murphy is the author of the book Carbon Conspiracy. Stu is an instructor at ACS who teaches Math to the first year students.  Here is the synopsis of his book.
Synopsis
Mark Burnham risks all as he confronts greed, betrayal and murder in search of the truth. This is the story of a political operative whose intelligence, drive and commitment to the environment propels him to the position of Chief of Staff to Congressman Tom Trendle, the foremost champion of renewable energy and foe of "Big Oil." He discovers that things aren't what they seem. Doubt begins to creep in as he probes leading environmental experts regarding the real story of global warming. Mark wants to know the truth about Trendle. The result of his investigation leads to the murder of his closest mentor and friend Dr. Charles Wilson and the unexplained death of a whistleblower and confidante. He enlists the aid of Chet Southers, a private eye, Emily Snow (Wilson's daughter and Mark's future love interest.) and Ando Rodriguez, Nicaraguan government minister and friend. Forced to flee after a suspicious explosion almost costs Mark and Emily their lives he goes on the offensive. He journeys from the Halls of Congress to the inner sanctum of a powerful west coast law firm and into the heart of political corruption in Central America. Trendle's closest political supporters, the Wise and Wealthy Nine (WW9); including the beautiful and seductive Lydia Van Flugete, the ever charming Malcolm Little, the secretive T.C. Clarkson and the Rumple sisters (Betty, Jane and Miranda Preston); have built an empire of dark secrets stretching back generations and corrupting those in power. During his darkest hour when all appears lost, hope blossoms as he encounters love. With Emily at his side Mark launches a counterattack that blows the lid off the conspiracy.